I've never traveled West of the Mississippi River.

Tomorrow I leave Louisville, Kentucky for Phoenix, Arizona, with stops and friends along the way. I'm going to take it slow, be chill, and not rush to the desert. I'll have my camera at hand, and a healthy supply of Jumex Mexican juice.

Here is the overall map of the trip: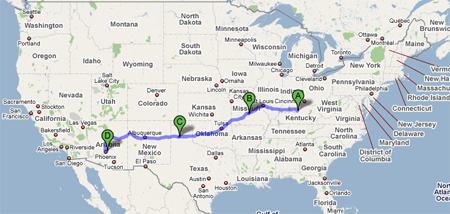 GoogleMaps listed the trip taking approximately 26 hours total, but I'm breaking the road into pieces. My itinerary is as follows:

DAY 1: Leave home. Arrive at Jack's apartment. Chill. Sleep.
DAY 2: Leave Jack's apartment. Drive. Arrive in Amarillo.
DAY 3: Chill in Amarillo with my friend, Brad.
DAY 4: Leave Amarillo for Phoenix. Drive. Drive. Drive. Arrive.

At the end of each driving day I hope to upload photos and video to document my trip. Once I reach Arizona, I'll start a Google Map and nerd it out with the geo-mapping feature.

Hi ho.

Labels: driving, going west, photography