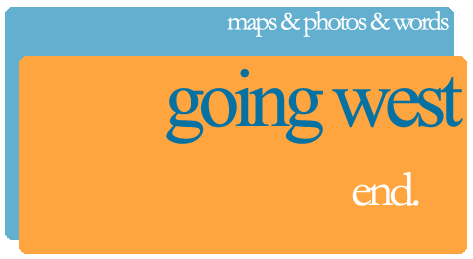 I left an Amarillo draped in fog and the temperature remained mild for most of the final leg of my trip. The drive across rocky New Mexico never got above 67 degrees and it wasn't till my drive south from Flagstaff, Ariz. that I noticed much in the way of temperature increase.
People like to trash-talk New Mexico with claims of it being the "trailer park of the southwest" or "boring" or "trashy." And maybe this is the case if you stop in Albuquerque, NM, which appears to be nothing more than an un-irrigated dust pan without a skyline (I did take the left turn). But during most of my drive, the highway was flanked by humongous mountains with flat tops and jagged edges. Plus, the desert starts in New Mexico, so I think it's a pretty interesting state to travel through.
I took few picture while driving, and didn't stop too much. My original plan was to take it slow and soak up the sight of it all, but your attitude changes when you can't see anything but a couple of low-lying bushes and seemingly endless dirt. It's all so big and flat, I wanted to get to the other side to prove it was there.
The most exciting part of my final day was from Flagstaff to Phoenix. You drive through the Black Canyon Pass, which is a harrowing and twisty drive through the mountains that separate the two cities.
Because Flagstaff sits at a higher elevation than Phoenix, it was 77 degrees, mild, and filled with trees. But as I made my way to the valley floor the temperature spiked. At 6:30 p.m. PDT it was 106 degrees in Phoenix. It cooled off to 104 degrees by 10 p.m..
But I made it, and for the next three months I'll be living in a city that takes about 3 hours to drive its circumference. It's massive, but filled with things to do. It has two juggling clubs, four artwalks, several swing-dancing events each month, great art film showings, and really good Mexican food.
I've been reading the paper every morning. Work starts 9 a.m. Monday.
Labels: driving, going west, Phoenix, photography