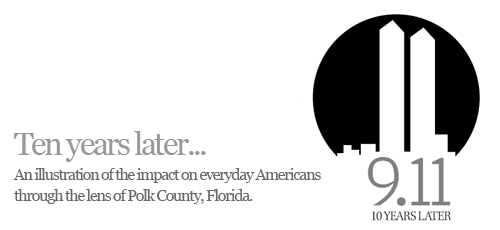 CLICK HERE TO SEE MY PROJECT
For the past couple of months, I've steadily worked on a project at the paper that attempted to illustrate the collective experience of 9/11 for America. That whether you learned of the attacks from a world-band radio in China, fled from the towers in New York, or watched on a television in Polk County, Florida -- the trauma of the events made a lasting impression.
Chances are, if you were old enough, you remember exactly where you were, the names of the people around you, or maybe an object that was in your hand at the time. N.R. Kleinfield put it beautifully in a recent
New York Times
article in which he described the feelings as a "residue, lingering wisps." He also pointed out, in the lead paragraph of the story, that Sept. 11 is a date that needs no year. Everyone knows.

The easiest and most obvious question to ask during my interviews was easy: Where were you when it happened. And no matter whom I was speaking with, something changed about each person as they tried to answer. By the look in their eyes, you could tell they instantly went someplace else -- somewhere where the visuals of the day remain seared into their memories. It was an outlet to their emotions, and it was impossible to avoid being swept up with them.
At the outset, I didn't anticipate feel such a connection to people. Maybe there is something about reporting that leaves you feeling impervious to the emotions of your subject matter. Even as I tried, it was impossible to remain untouched, and I found myself teary-eyed on two occasions. And when I wasn't in an interview, my mind clouded with questions, and sorrow and remembrance.



Labels: Multimedia